Current Sense Transformers – Coils – Chokes – Inductors
Zettler Magnetics has a comprehensive current sense transformer manufacturing capability, producing both EI lamination types as well as toroidal current sense transformers. While offering a standard PCB mountable option, most of the parts we manufacture are custom designs based on our customer's requirements.
ACST Series of PCB Mountable Current Sense Transformers
Key Benefits:
Through-hole PCB mountable
Low profile design
Seven turns ratio options
Cost effective plug & play option
Key Features:
Primary current range 0.4 to 30 Amps
Dielectric strength 4000 Vrms
UL class B materials
Split-bobbin design
ACST Series Links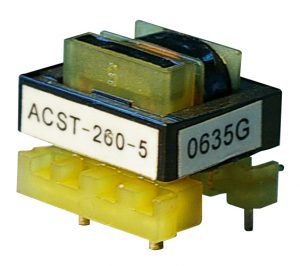 Custom AC Current Sensors
Current Sense Transformers for sensing AC loads are used in numerous applications.
Individual requirements for the power to be sensed and the physical dimensions
of the component often define the final form factor of the part. Most components
in this category have some level of customization.
ZETTLER MAGNETICS offers a variety of solutions for this type of component:
Zero to hundreds of amperes sensed, and frequencies ranging from 50 Hz to 400 Hz. Our solutions to specific custom requirements include the use of conventional material such as lamination, or materials such as iron powder, internally-gapped cores.
A variety of mounting solutions, as well as core geometries, are available.
Inductors
ZETTLER MAGNETICS offers custom designed inductors for a wide variety of applications from low to high frequencies. Custom designed options use numerous materials, core geometries, and mounting solutions including:
Horizontal and vertical mount toroids
EE and U core design chokes
Air core bobbin wound
Radial and axial leaded chokes
Surface mount inductors
Printed circuit mount inductors
High voltage inductors
Shielded ferrite type inductors
Custom Toroid Capabilities (PDF)
For ZETTLER MAGNETICS custom Toroid capabilities, application areas and design information requirements, please view PDF